Indonesia's navy declared Saturday that the missing submarine has most likely sunk, with no hope of finding survivors, after rescuers discovered several items believed to be from the vessel. 
"With authentic evidence we found believe to be from the submarine, we have now moved from the 'sub miss' phase to 'sub sunk,'" Margono said at a press conference in Bali, where the found items were displayed. 
The items included parts of a torpedo straightener, a grease bottle believed to be used to oil the periscope and prayer rugs from the submarine. Officials said the oxygen supply for its 53 crew ran out early Saturday.
Family members of the crew had held out hope that the search effort would locate the vessel before the limited oxygen supply ran out, but Navy Chief Yudo Margono provided evidence that the Indonesian navy believes is irrefutable proof of a worst-case scenario. 
"We keep doing the search until we find it and whatever the result," Indonesia military spokesperson Djawara Whimbo said.
INDONESIA SUBMARINE MISSING OFF BALI BELIEVED TO HAVE RUN OUT OF OXYGEN
The submarine was first declared missing on Thursday after the vessel submerged during training drills on Wednesday some 60 miles off the coast of Bali. The navy rolled out an incredible search effort, deploying a fleet of 24 ships and a patrol plane to scour the seas.
The search focused on an area where an oil slick was discovered after the disappearance. Margono said the oil could have spilled from a crack in the vessel's fuel tank, or the crew could have released the fuel to reduce the submarine's weight in order to surface.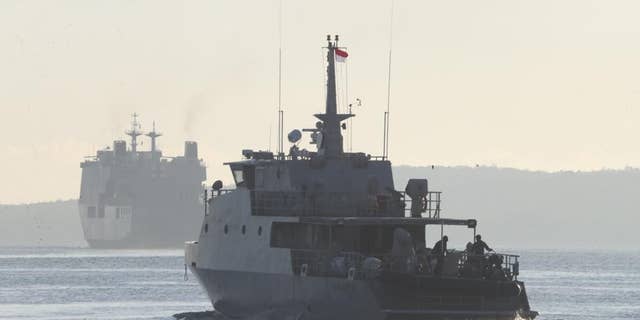 The search included assistance from several nations, including Singapore, Malaysia, India and Australia. The U.S. was set to join the effort Saturday, with a reconnaissance plane joining the hunt. 
WWII-ERA PLANE IN FLORIDA AIR SHOW MAKES SPLASH LANDING IN OCEAN
There was concern the KRI Nanggala 402 may have sunk too deep to reach or recover in time. Officials believed the submarine had sunk to below 600 meters – well below the vessel's crush depth, when then undersea pressure would be greater than what the hull could bear. 
The cause of the disappearance is still uncertain. The navy has said an electrical failure could have left the submarine unable to execute emergency procedures to resurface.
The German-built diesel-powered KRI Nanggala 402 had been in service in Indonesia since 1981 and was carrying 49 crew members and three gunners as well as its commander, the Indonesian Defense Ministry said.
CLICK HERE TO GET THE FOX NEWS APP
Indonesia, the world's largest archipelago nation with more than 17,000 islands, has faced growing challenges to its maritime claims in recent years, including numerous incidents involving Chinese vessels near the Natuna Islands.
The Associated Press contributed to this report.